DEATH-TOUCHED print copies have landed! (Maeve and Dolores are helping me out by providing the Pop-scale for the photo)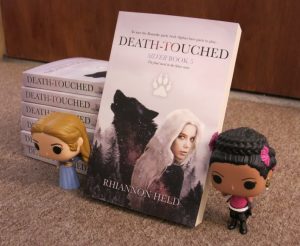 These copies will be available for purchase at Norwescon!
Speaking of Norwescon, I'm also going to be speakin' on some panels and signin' some autographs, so if you're planning to be at the convention, come and say hello!
Friday
Visiting the Weird West
10:00am – 11:00am @ Cascade 11
Mark Teppo (M), Rhiannon Held, K.G. Anderson, Alexandra Renwick
Using Real Places in Fantasy Settings
12:00pm – 1:00pm @ Cascade 10
Django Wexler (M), Kat Richardson, Rhiannon Held, Randy Henderson
Writer Talk: Rejection is a Harsh Mistress
4:00pm – 5:00pm @ Cascade 10
Rhiannon Held (M), Jack Skillingstead, Andy Dudak, E. Lily Yu
Saturday
Autograph Session 2
3:00pm – 4:00pm @ Grand 2