Interested in my urban fantasy, but not looking to catch up on a series? Tired of the same old monster-fighting tropes? I have just the thing for you! My stand-alone urban fantasy in an entirely new world of shapeshifters and mirror magic is available as both a preorder and an eARC now!
Why would a monster want to help a monster-fighting team?
…She doesn't.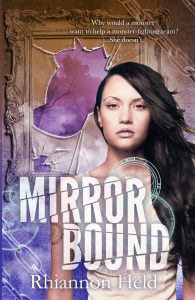 eARCs available through Booksprout
Pre-order the ebook at
Barnes & Noble
Apple
Amazon
Kobo
Add it on GoodReads
If you are interested in the print edition, please sign up for my mailing list at the upper right, and you'll receive a notice when that's live!
Verity is a phantom, a being of the mirror realm who can change her face—or she could before she was bound by a mage of the grounded realm. Now she's trapped in a human form, forced to tell the truth and obey the one who holds her binding: Dakota, a hunter who, with her team of other mages, keeps the world safe from the more monstrous creatures of the mirror realm. But Verity's binding is weakening. Every time she teleports the team to safety, she gets a little closer to freedom.
Except the number of monsters coming from the mirror realm is increasing and the mages' governing body, the Quorum, can't figure out why. With monsters killing humans and all eyes on Verity, she's fast running out of time to free herself—especially when she discovers that unless she can stop them from gaining access to the mirror realm, the Quorum's plans for her realm and her people are far more dangerous than anything they might do to her.